USA Bike Factory Tour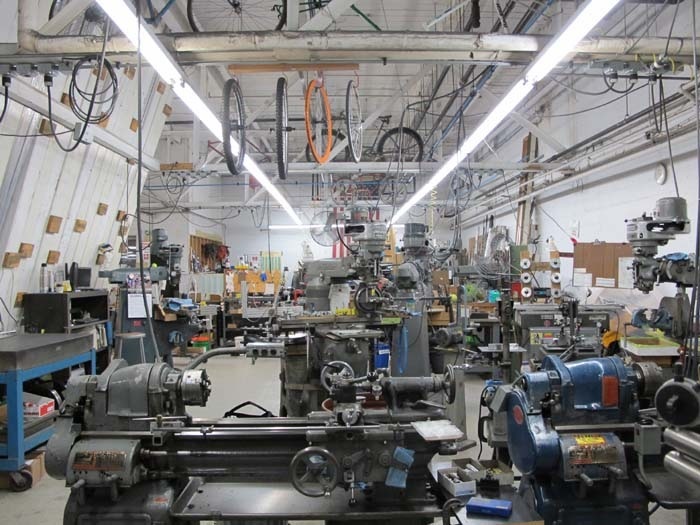 No Country For Old Men
There is nothing like a disputed Canada/US border-crossing with 250 pounds of raw Deputy to sharpen the appetite. Luckily Waterbury hove into view in time for a gallon of coffee and a long-stack of pancakes.

Breakfast at Waterbury
We had five days between Simon Mottram's Rapha Symposium on 6th December and Phil starting a Trek Fitting course of the year on 12th December. That left 1400 miles linking three factories between Montreal (Guru), Boston (Seven) and Saratoga Springs (Serotta).
This is what we saw.
Guru
Canadian Minimalism
The factory is on an industrial estate in Montreal. Cleaner, larger and more modern than we expected.
The whole feel is of a high-end Italian spectacles manufacturer. Everything is designed, minimal and ultra-clean.
It is impressive that Guru has three production capacities at Montreal - carbon, steel and titanium - all running concurrently.
Forty Man Hours Per Photon!
Of those carbon is the most involved and labour intensive - for example each Photon takes about forty skilled man-hours. All the carbon sheets are kept in a huge fridge waiting to be hand-cut into precise shapes. They use different types of carbon according to requirement. The Photon uses a judicious amount of expensive and tough HS40.
We witnessed Oliver (pictured) carbon-wrapping a Photon frame joints (this is both structural and aesthetic) - he is skilled, enthusiastic and dedicated, but even so he can only wrap two frames in one shift!
Bladder Control
Guru also designs and builds all their own carbon moulds in-house for all of their carbon frames. And their own proprietary bladder internal bladder system to finely control the moulding process
The atmosphere on the factory floor is generally focused but unhurried. The carbon finishing rooms feel hallowed, special and even more intense in terms of concentration levels.
It is clear there is great pride here for what Guru has achieved in pushing the custom carbon agenda.
Destruction Testing
The Guru method for us, was epitomised by the R&D rig they built to test their frames. The Photon was repeatedly tested and refused to break during development. They even broke a set of Shimano Ultegra cranks in the repeated attempts.
The day we were at at Guru they were testing an Evolo R frame and fork.
A deeply impressive and forward looking factory. The steel and titanium production facilities themselves were very good but it became clear that in terms of custom carbon and especially 'aero' Guru are right at the head of the pack. The technology and durability of the Photon especially resonated with us.
Seven
Red Brick Fabrication
A 500k jog down the '89' taking in a brief (but not brief enough) stop at the border at Philipsburg, and we land in the most exquisite part of our favourite US City - Watertown, Boston. Hurrah…
Watertown sits on the Charles River and feels more like Richmond (Surrey) than part of a large US metropolis.
Art School Light Industry
Seven by intention or accident is hidden in an old red-brick industrial building close to the river. Now only Seven actually manufactures in their space; the rest looked to be office, studio and design.
First impressions are everything. Especially with Seven Cycles. We wandered in through an unlocked door to find ourselves coming into the back of the main factory floor (top image). Nobody asked who we were or what we were doing there. Friendly nods and the 'hey' and we eventually stumbled into the offices. The whole place oozed relaxed creativity and independence. You have never seen or met such a happy bunch of workmates in all your life. It just has to be be the dream ticket if you are into bikes and love making beautiful things.
Just In Time. In Your Own Time.
But this chilled hippy vibe belies incredible production focus and structure. Production Manager, Matt O'Keefe is probably the world's best best boss. Period. Calm, supportive and obviously 100% nurturing of his factory staff. He explains that Seven took their production principle for Toyota's 'just in time' code. That is to say machines are relatively cheap but people are expensive. So each worker is trained to a high level to accomplish as many tasks as possible concurrently. This helps each part of production arrive on time for the next phase.
We watched Jonathan juggle three spinning machines, that were cutting, butting and machining a set of Axiom SL tubes simultaneously.
One of the things that we liked is that the workers, to a degree at least, set their own hours. As long as they work their shift they can be flexible - as long as it fits in with the production schedule at the time. And talking to Matt it became clear that this consensual style allowed happier and more natural working rhythms. Simple.
Precision Welding - Steph Adams Style
"Designer, Welder, and Painter (but not all at the same time)"
In many companies the welder is the super-star. In Seven they are all equal. The crew are encouraged to be as multi-skilled as they can or want. We watched ex welding sculptress Steph (pictured), perform the most perfect beads on an Axiom. But she is just as happy designing frames or painting them. Like many of the Seven crew Steph came out of art school and also worked at Merlin.
Controlled Creative Calm
To sum up Seven is the epitome of controlled creative calm. What a wonderful working environment.
Serotta
The Godfather of Custom
Time to get on the I90 westward and go and see The Old Man of Custom himself.
Past Glories
Now we have been to Serotta many times so turning off Geyser Road into the woods and the factory is a bit like coming home for us. It is such a quixotically beautiful place for one of the finest bicycle factories in the world.
The lobby area is stuffed full of bikes, frames and kit that speaks of Serotta's involvement in racing at the highest level over the decades - Tour de France, Olympics victories…etc - it is all here.
Ben's company has been producing custom frames in USA since 1972 in an era where it was not unusual for pro teams to turn to custom builders for their riders frames. That doesn't happen often now, but has given Serotta this wonderful legacy that they seem to take for granted somehow.
Its All About Ben
We arrived late on a Friday afternoon so the factory was pretty quiet.
Fittingly the factory floor feels a hybrid of both Seven and Guru. It is very modern and spacious like Guru but has a touch of the Seven work ethic as well. Staff tend to get early so they can clock off early and ride their bikes or go cross-country skiing.
But where Serotta differs from Seven and Guru, is that one man's name is written on all the bikes. And the company therefore tends to orbit about Ben and what direction he wants to move in.
Serotta therefore doesn't have the democratic art-house feel of Seven. Chilled it maybe, democratic it is certainly not!
Aiming Low (and high)
So what for the future of the iconic Serotta Competition Bicycles?
Well in truth Serotta has had a challenging 2011 in terms of meeting production schedules etc. And 2012 sees the company re-define itself back to extremely low production volumes, limited model choices and inevitably a re-calibration even further north up the price-scale. All of which we think is in fact positive.
Serotta will only produce a few hundred frames in 2012 and not many more going forward. And no longer will Serotta chase fast build lead-times - frames will typically take 12-14 weeks to produce instead of the 3-4 weeks we have come to expect over the last ten years.
Old Men of The Woods
We spent many enjoyable hours walking around the hills around Saratoga Springs with Ben and Fred (the Boxer) talking about Ben's plans for upcoming frames and bikes - 2012 will be the 40th anniversary of Serotta and the intention is to make it very memorable.
Ben will be visiting London in 2012 - we will organise a ride-out with him and another Evening Symposium (see link below)
Guru Bikes
Seven Cycles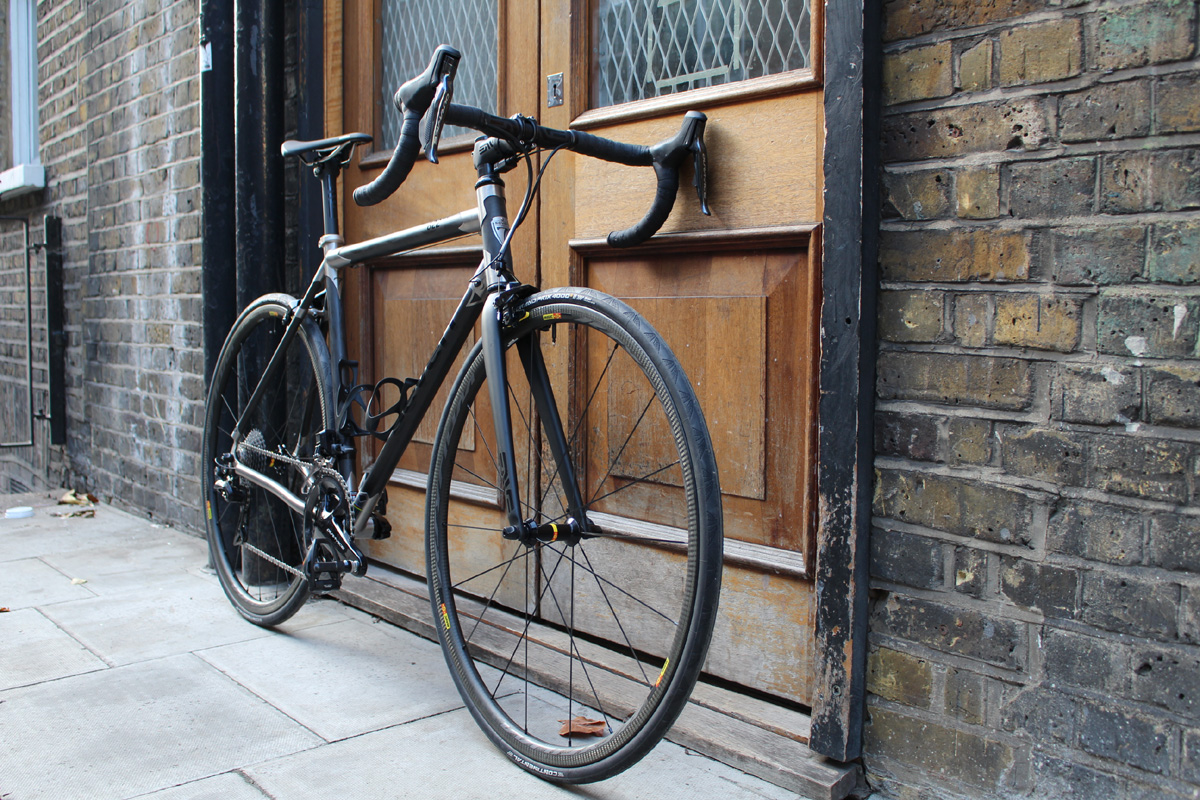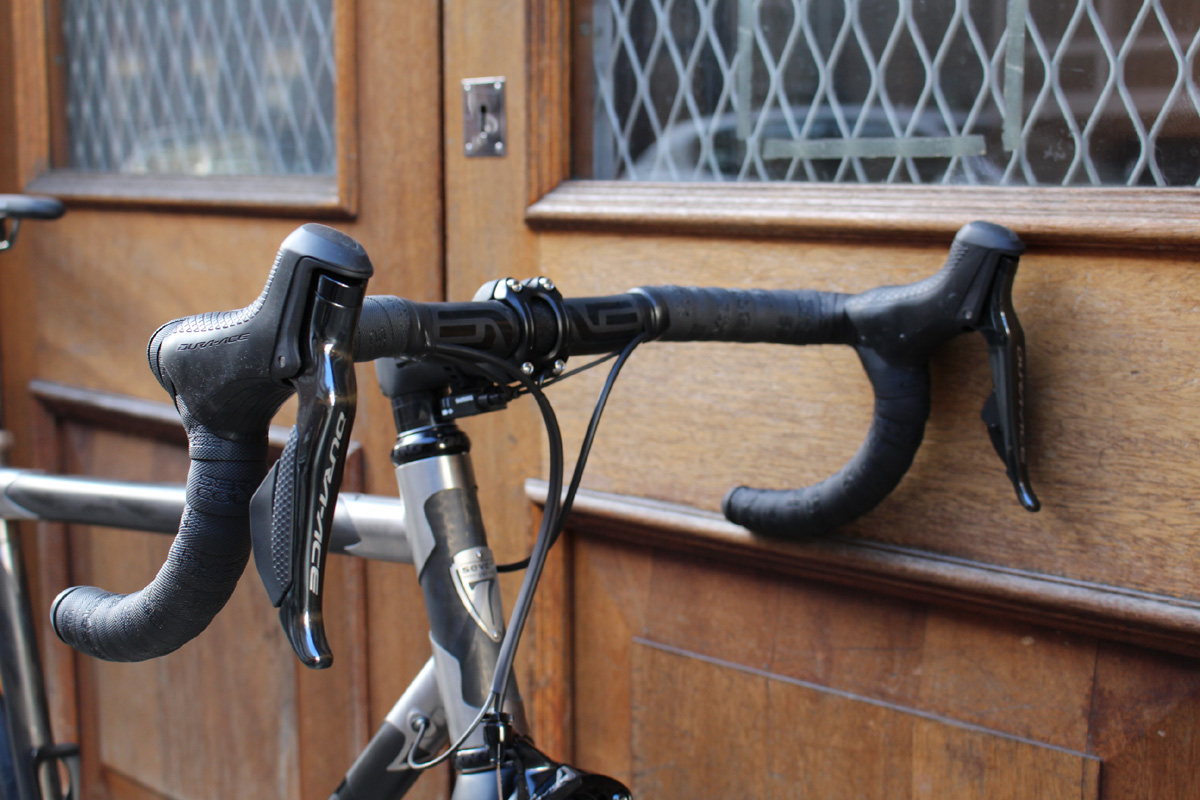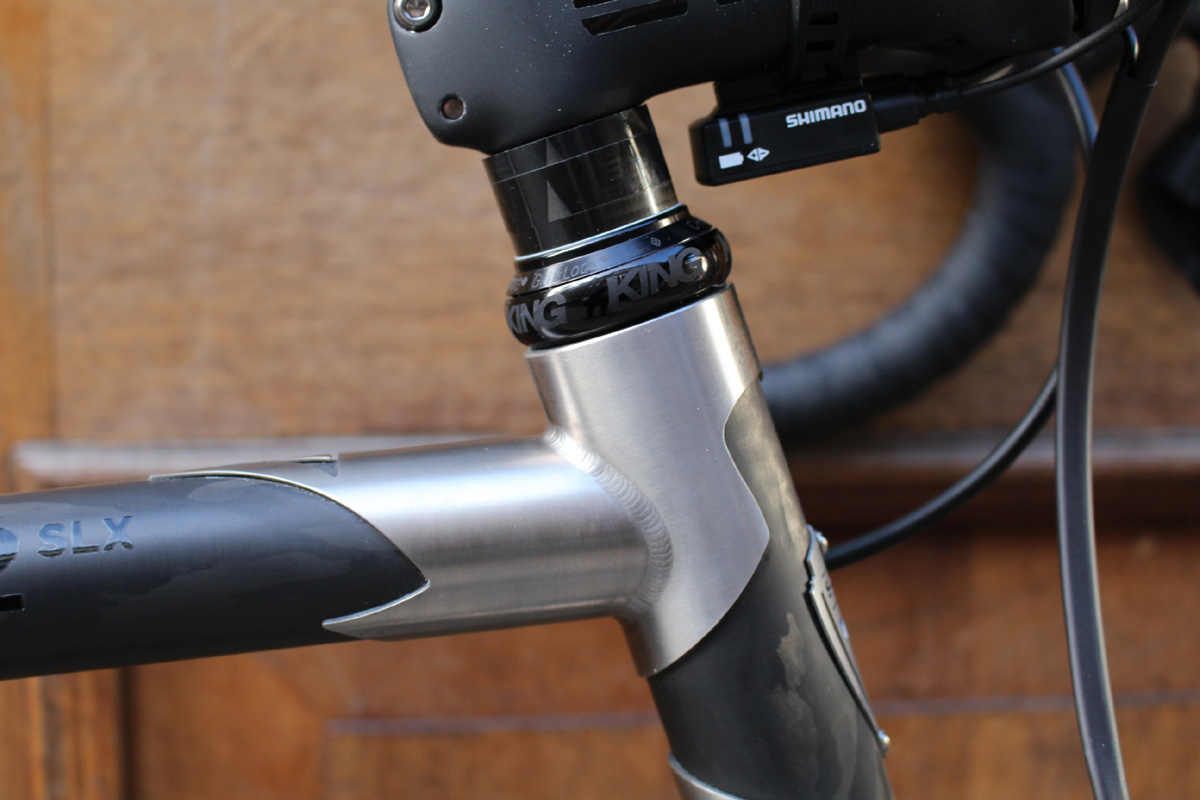 Serotta Competiton Bicycles