About
Since 2001 we have fitted thousands of cyclists on all types of bikes, from World Champions with knee pain to old ladies with back pain; on the latest and greatest time trial machines to Penny Farthings . We have helped riders with hip replacements and prosthetic limbs nothing has daunted us and this experience over the years has developed our bike fitting skills and lead us to realise how complex the human body is.
We work with the country's best medical practitioners and the world's best frame builders and bike fitters processing all the information and applying their knowledge by osmosis to our bike fitting.
We couldn't offer the service we do without the rest of the Cyclefit team who will look after you and your bike before, during and after your appointment for many years to come.
We look forward to helping you with your cycling.
Cyclefit History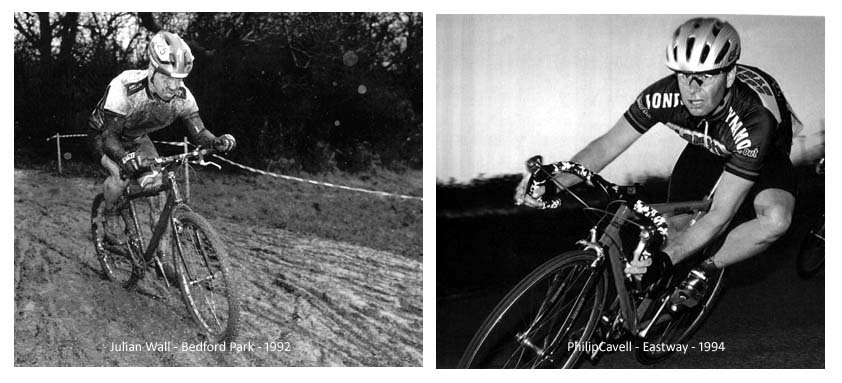 Broken Men - 1990's
This is the story of two journeymen club racers, united in mediocre talent but also an appetite for bike racing in all its forms - road-racing, crits, cyclo-x and competing on the NPS mountain bike series - they do it all. Until they both get injured in the mid 1990's and then it all stops. Julian injured his knee and Phil his back. Both go through endless rounds of hospitals and physios in their quest to get fixed and get back racing again.
The Epiphany - 1996
Jules was the first to posit the theory that it was actually their pre-injury bike positions that were now causing adverse physiological effects on their post-injury bodies. Eureka.
Back To School 1994 - To Present day
Anatomy and sports massage classes posed all the right questions but did not supply the right answers. In 2001 Jules and Phil met Ben Serotta and attended the Serotta Fit School Elements and Advanced classes in New York.
Cyclefit Opens - 2002
In 2002 Julian and Phil opened Cyclefit - Europe's first dedicated centre to bike fitting and cycling biomechanics. Located in Covent Garden, London, Cyclefit's appointment based business attracted riders from all over Europe at all level, from commuters to penny-farthing riders to professionals and world and Olympic Champions.
Image right shows 2006 Cyclefit session with round-the-world penny farthing rider Joff Summerfield
Links to Sports Medical Community 2002
We knew right from the start that cycle-fitting was only one component of the complete picture. We pursued from day one any medical professional who had an interest in working with cyclists and their injuries and niggles. Now we have a huge professional network that we cross-refer with and share knowledge and opinions. But special mention should go out to a few who it has been a pleasure to work with for many years - Graham Anderson from Balance Physiotherapy, Alex Fugallo now at Beyond Health and cycling Doctor Dr David Hulse.
Foot-Centric - 2004 - Present Day
Cyclefit was rightly obsessed from the early days about the integrity of foot stability and the integrity of the foot/pedal interface.
Jules and Phil contacted Paul Swift (Bikefit Wedged) to specifically train them on foot canting dynamics. This relationship with Paul and Bikefit has endured for over ten years.
In 2004 Cyclefit started working with Sidas to design their own footbed blank to use in cycle shoes. Cyclefit's protocol that has endured, is the foot must be properly supported and stabilised in the show with a foot-bed before any external stabilisation should take place. The long history with Sidas has seen six iterations of the footbed blank.
In 2005 Cyclefit trained with pedorthist Bill Peterson and innovator from eSoles in Arizona. eSoles provided a cycling orthotic for clients that needed extra support and lazer precision customisation.
Motion Analysis - 2004-5
Cyclefit was the first company in the UK to use motion analysis for commercial bike fitting. We originally used Silicon Coach software and changed to Dartfish in 2009 in both fitting studios.
But we still maintain that expensive tools are an adjunct to a professional fit. The best tools an experienced technician has are their brain and eyes.Tools will never in themselves replace the properly trained and experienced technician.
Motion analysis does however provide excellent feedback about dynamic pedalling patterns and cycling posture. We think that Dartfish is the most precise and versatile software available.
International Master Bike Fitters Association - 2006/7
Jules and Phil have become used to collecting air-miles to stay abreast of new developments in fitting and identificatioon of best practice. In 2007/2008 they attended the SICI Cycling Science Symposium in Boulder. Then with six other companies who were internationally renowned for bike-fitting excellence, started Master Bike Fitters Association
This group corresponds frequently and meets occasionally to drive standards and refine fitting procedures.
Cyclefit Fit School - 2008
Cyclefit started the first European fitting school in 2009 in conjunction with SICI, the dominant teaching body in the USA.
Over the last four years Cyclefit has hosted courses in: bike-fitting, foot-mechanics and adjustment and motion analysis. Forthcoming classes are listed on BikeFittingTools
Trek Fit Services School - 2009
Cyclefit has been working with Trek since 2009 to devise and deliver a practical fitting syllabus and class. Trek have a cutting edge teaching facility at their head office in Milton Keynes. Trek Fit Services classes has trained about 200 students at the time of writing and is therefore making a huge contribution to raising industry standards. The Fit Services classes work well with Trek's customisable Project 1 product at the high end. Cyclefit is proud to represent Trek Project One road and tri bikes at Covent Garden.
ICS - International Cyclefit Symposium - 2012
In January of 2012 Cyclefit organised and hosted the inaugural 2012 ICS - International Cycelit Symposium. Speakers(ICS 2012 speakers) and delegates from all around the world met in Covent Garden to discuss the science of bike fitting and cycling biomechanics.
Speakers included: Keith Bontrager and Jeff Broker (from University Colorado Springs - world-leader in research into pedalling kinesiology)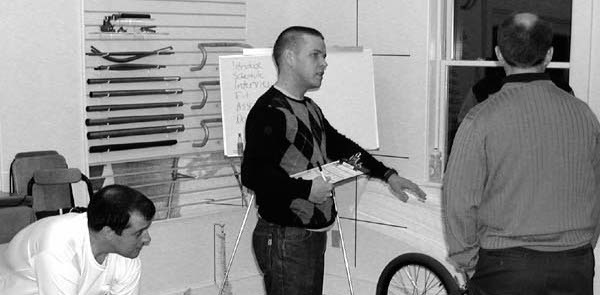 Julian at Serotta Fit School 2001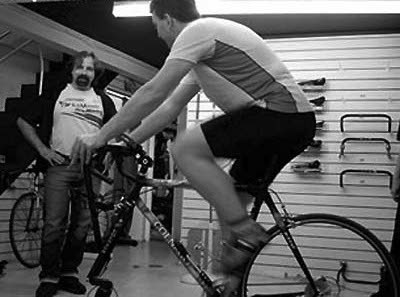 Paul Swift trains Jules and Phil in 2002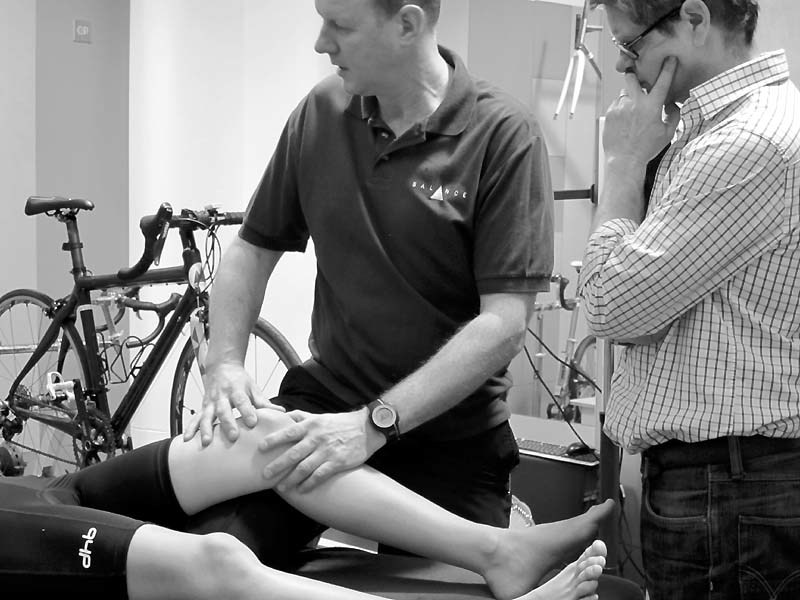 Graham from Balance and Phil from Cyclefit

2006 - Phil works with Joff Summerfield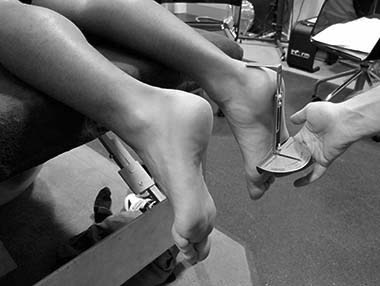 Foot-assessment at Cyclefit

Julian fits pro Roger Hammond - T-Mobile- 2007

Dartfish motion-analysis - Studio-1

Julian instructs Cyclefit / SICI class

Cyclefit teaching a Trek Fit Services Class

2012 ICS - hosted by Cyclefit

February 2012 - Pro cyclist Emma Trott at Cyclefit